I am the Queen of England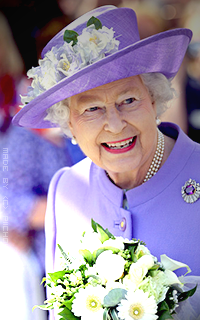 What about me
I arrived in Faithlorn on

:
21/03/2015
I'm currently living in

:
the United Kingdom, more precisely in England
"Welcome to Britain new kitty. I'm the Queen of England, Elizabeth II. You probably already know my name and who I am. Now it's your story that you need to write. Good luck in your new country !"
"Bienvenue en Angleterre petit chaton. Je suis Elizabeth II la reine d'Angleterre. Tu as sans doute déjà entendu parlé de mon nom et de qui je suis mais maintenant c'est ta propre histoire que tu dois écrire. Bonne chance dans ton nouveau pays !"

Sujet: [Common RP] Manchester's Carnival

Mar 18 Oct - 22:50
---
---
Manchester's Carnival
Bienvenue au Carnaval de Manchester
RP commun




This is a tradition all around the world, the Carnival. Lots of them are well known and the one of Manchester is one of them. I propose you to come for a parade and then a ball in the North of the city. The day of the carnival is planned on Friday, 13rd March. The parade will begin around 2 p.m. and the ball around 9 p.m.
How to participate?
This subject is a common RP. You can post into it without any authorization. Everybody can post here as you're validated of course. Please, post into your message a in and out to say when you enter the action and when you leave it. Thank you and have fun !
If you go "IN":
Code:

[color=#ff9933][b]I'm arriving ► IN[/b][/color]
If you go "OUT":
Code:

[color=#993300][b]I'm leaving ► OUT[/b][/color]
God save the Queen

What about me
I arrived in Faithlorn on

:
04/10/2016
Credit(s)

:
Avatar par Piichou ou moi même si vous préférez, gifs TUMBLR
My other Faces

:
Adhira Kmahil, Agatha Edenfield, Lizbeth & Sylvia Hodgson

Sujet: Re: [Common RP] Manchester's Carnival

Lun 19 Déc - 23:57
---
---
I'm arriving ► IN
MANCHESTER'S CARNIVAL
RP ouvert à toutes et tous
This was a new kind of life for us, Rowan and I. We started to work in a new company, in a new kind of job and was discovering a new kind of life in a little town called Faithlorn. It was strange to live in a place like that. I had the habit to live bigger cities and sometimes it was really complicated to be not boring.

This day I heard about a carnival in Manchester. It was a very big one and very famous throughout the country. I decided to go there. I wanted to be in a bigger city for once. Manchester was a really beautiful and open city. I proposed Rowan to come with me but he told me he would think about it because he was quite busy at work.

I finally chose a costume for the carnival. Something smart and sexy romantic. I found it perfect for me and this event. I also colored my hair in brown. Some make up and I was ready to leave Faithlorn to Manchester, for having fun. When I arrived and waited the arrival of Rowan, I saw someone I met in Faithlorn.

- « Hello, I'm surprised but happy to see you here. »

The great parade would begin in a minute. Everybody was now arrived, all standing around the streets costumed for the ball in the evening. I had a look at my cellphone and texted Rowan in order to tell him where I was and with whom I met, someone he knew too. 
Piichou (c) 2015 -
_______________๑۩۞۩๑_______________

--------------------------------
Journalist for the newspaper of Faithlorn
I'm doing my best to give you the best news of the town
God save the Queen

What about me
I arrived in Faithlorn on

:
07/09/2015
I'm currently living in

:
Manchester where I own my shop, Adhi's shop
In french for this part only -
Elle a 29 ans depuis le 1er novembre 2015 ► Sa famille est arrivée d'Inde depuis cinq générations ► Elle aime sa famille mais leur ment sur son métier ► Elle n'a eu que deux petits amis dans sa vie dont un quand elle avait 6 ans ► Elle déteste qu'on la force à faire quelque chose qu'elle ne veut pas et peut décider de faire tout son contraire ► Comme sa famille, elle est très fier de ses origines ► Elle était très douée dans les études mais n'a pas pu faire ce qu'elle voulait ► Enfant elle avait peur des monstres, elle se pose encore la question de leur existence par moment ► Elle sait danser de manière traditionnelle et participe parfois à des manifestations dans sa communauté ► Elle possède une boutique dans le fameux et célèvre centre Arndale
Elle est plusieurs fois tata et adore ses neveux et nièces ► Ils sont huit frères et soeurs dans la famille d'Adhira et elle est l'avant-avant dernière ► Elle était amoureuse d'un jeune homme anglais lorsqu'elle avait 22 ans malheureusement celui-ci l'a trompée après trois ans de relation ► Elle adore le thé et en boit au moins deux à trois tasses par jour ► Elle est toujours souriante même dans les pires moments.
Philip Dyers:
J'ai rencontré Philip lors d'une soirée arrosée, le deuxième jour de la nouvelle année. Je n'aurais jamais imaginé qu'une rencontre puisse bouleverser autant ma vie. Ce soir là, il m'a traité comme une véritable princesse. Jamais un homme n'avait eu de geste aussi attentionné envers moi. Aucun de nous ne se rend vraiment compte de ce qui se passe pour le moment.
Ann Rosenwood:
Lorsque Philip et moi nous nous sommes rencontrés on s'est tout de suite plu. Seulement les choses entre nous ne sont pas simples de par nos origines mais aussi de par notre entourage. Ann est l'ex fiancée de Philip. Elle est complètement histérique ! Je ne sais pas ce que donnera l'avenir mais je sens qu'elle ne me facilitera pas les choses.
Credit(s)

:
(c) Piichou, Tumblr
My other Faces

:
Lizbeth, Sylvia, Sonniya, Sarah & Agatha

Sujet: Re: [Common RP] Manchester's Carnival

Sam 18 Fév - 19:31
---
---
I'm arriving ► IN
Manchester's Carnival
Common RP, open to everybody
We were in March, the third of March precisely. I had spent some time with my family in London and I needed to find an occupation to think about anything else. I heard about the carnival of Manchester which was a huge event into our city. It was a great time to meet new people and have fun into the city without being recognized. I chose a costume for the event. Something in common with dancing and my origins. I tried to find something interesting in many shops until I crossed the way of THE idea of costume. I bought it and went back to my flat.

I prepared myself with make up, perfume and clothes before I went out. I didn't cross the way with Philip and didn't know if I could see him there. It was usually very complicated to recognize somebody in this crowd. As I arrived I went to a blond woman. I thought I saw her somewhere I couldn't remember where. - « Hi ! I'm sorry but I think I already cross your way somewhere but I can't remember where ... by the way, I'm Adhira. » I know it is strange to go a stranger like that but everything is allowed in a carnival, even going somewhere and asking a person if you already saw her anywhere.
Piichou (c) 2015 -
_______________๑۩۞۩๑_______________

--------------------------------
| | |
| --- | --- |
| | Welcome to my world ! Adhi's Shop, somewhere you can find anything you want. I think you already saw it, I'm Indian from origins and proud to be. |

Sujet: Re: [Common RP] Manchester's Carnival

---
---